This evening I somehow found myself at Stratfor.com. The free report I received in exchange for my email address said that the Tarawa-class amphibious assault ship USS Nassau is scheduled to be decommissioned on March 31st.
This warship has already responded to many disasters. As of this writing, the USS Nassau's official navy page says the crew is preparing for decommissioning by removing the diapers and baby food:
NORFOLK, Va. (Feb. 3, 2010) – It's a little known fact that U.S. Navy vessels, such as USS Nassau, carry not only supplies and food for Sailors and embarked Marines, but also for babies in times of need and humanitarian relief.

As Logistics Specialist 2nd Class (SW/AW) Daniel Shelton carried boxes of diapers, baby food, and other infant supplies out of the Evac Storeroom and into Nassau's Hangar Bay, he explained that merely providing diapers and food like in Haiti can bridge gaps between cultures.

"Language isn't important when you do this kind of work," said Shelton.  "If you possess the human emotion of empathy, you can communicate with anyone from anywhere in the world."

Although a large amount of baby supplies were given to infants and families in Haiti last year, Shelton and other Nassau Sailors still kept the storeroom stocked in case another tragedy occurred while deployed.

"Participating in humanitarian relief shows the world that we are more than just a military force," said Shelton.  "We have feelings too.  Going there and simply handing out diapers along with other supplies made the Haitian people greatly appreciative.  They may never know what it took to get it to them, but they're so grateful of that gesture and will remember that somebody cared enough to get down there to get it to them."

In about an hour, Shelton and other Nassau Supply Department Sailors filled three giant boxes to the brim with all of their baby food, formula and diapers so that other ships can use them.
Ships with large deck areas really are invaluable when responding to a disaster. The USS Tortuga is currently being used to transport 93 Japan Defense Force vehicles to the tsunami site.
Enterprise is currently in the Mediterranean with its strike group, and it'll be over 2 years until the Navy is planning to not have it in their fleet.
The USS Nassau is getting transferred to the Military Sealift Command in two weeks. Strictly speaking, amphibious assault ships such as the Nassau might be more appropriate for "dedicated disaster response" than the USS Enterprise. The planet needs 3 such ships. We ought to get started with this one.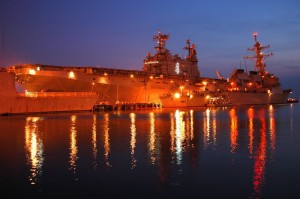 Some technical data:
[USS Nassau has] 1,400 compartments, nine elevators and two horizontal conveyors. She also has two boilers — the largest ever manufactured for the United States Navy. They can generate a total of 400 tons of steam per hour and develop 140,000 horsepower or 104 megawatts (MW). Nassau's electrical power subsystem creates 14 MW to provide electrical power for the ship. She has air conditioning equipment rated at a total of 1500 tons (5.3 MW) and can ballast 12,000 tons of seawater for trimming the ship to receive and discharge landing craft from the well deck.

–USS Nassau (LHA-4): Technical Data (wikipedia)